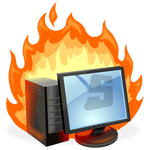 PassMark BurnInTest
software that all computer hardware at the same time to determine the stability, reliability and durability checks.
This application is part of a Kampvytr including CPU, hard drives, RAM, CD-ROM and burner CD, DVD and sound card, graphics 2D, 3D graphics, network connections, printers and graphics cards Video Test he does.
If you have special hardware that BurnInTest can not verify it, you can do it manually within the application to consider.
Pro version of the software has additional features to test the USB port and test the parallel port as well.
Features PassMark BurnInTest:
Hardware and operating system support 64bit.
Logging results in a level of detail that the user has selected disk in ASCII format and HTML.
Test scheduled to expire automatically at the selected time or after a period of testing, stop.
The ability to save results to disk to copy files PassMark BurnInTest.
The "Notes" and "Machine ID" Reviewing data storage.
Support for copying the results in other applications such as Word through a variety of image formats such as BMP / GIF / EMF.
Counters that count the total number of operations being performed.
The interface is simple and intuitive.
Can run from a USB drive or CD on Windows
Wrap your system information showing the type of CPU, its speed and serial number.
Check temperature and display parts of the user interface.
Check UPS and batteries for laptops (plus software BatteryMon).
RAW files or HP testing using the standard black and white or color.
Run the file in MP3, MIDI, Wave to test sound card.
20 test disks and floppy disks simultaneously.
20 test optical drives concurrently.
Test CD / DVD / Blu-Ray.
Test restart and shutdown.
Graphics card memory test.
Testing video performance.
Support for hard disk SMART parameters.